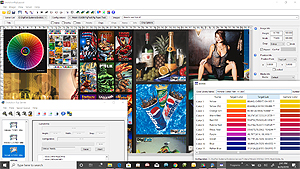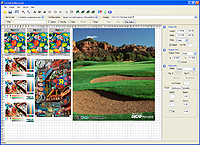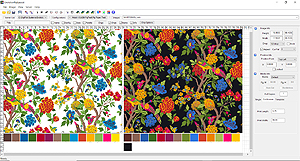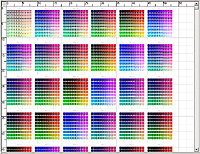 The state of the art Textile & Grahics RIP with new advantages for graphics for Windows Vista / 7 / 8 / 10. Print your sample yardage, banners, posters, flags, signs, photographic images, designs, artwork, and patterns digitally.
VERSIONS & PACKAGES:
Evolution RIP Plus ( Textile & Graphic )
Evolution RIP ( Textile & Graphic )
Evolution Graphic RIP
Evolution Graphic RIP Lite
Imports a large variety of file formats:
TIFF, JPEG, PNG, PSD, AI, PDF, EPS, BMP, TGA, PCX, PCT, TNS, SCN, PUB, SDN, MSG, CHP, indexed or true color, MAC, UNIX or PC files. Which means you can work with files created on popular software packages, as well as commercial software like Adobe Illustrator, Adobe Photoshop, PDF files, and others.( Illustrator and Photoshop are trademarks of Adobe Systems Inc. )
Builds repeats on the fly no matter how odd the drop may be. Is able to deal with any repeat with advanced step and repeat capabilities.
No limitation in size or yardage to be printed.
Rotates, flips, and scales the file on the fly.

Multi-queued and multi-process print server: each printer has its own dedicated and independent queue and memory allocation, which allows for quicker processing and printing of multiple-jobs simultaneously to multiple printer.

Offers basic image manipulation before printing:
Change Drop, Change Resolution, Scale, Rotate, Flip, Multiply, Mirror, Cut, Measure.
Allows the view of one repeat, many repeats, and real image size (also known as printing size).
Includes Do-Undo functions.
Save any changes you have made in the original or in a new file format.
Layout Capability for presentation boards or to print multiple images at once.
Edit and tweak color capability. Color picker tool.
sRGB, CMYK, Lab, HSV and HSL color modes.
Standard ICC color profiling.
Profile To Profile Transfer.
RIP PLUS Package:
Complete Coloring System
Excellent Color Management
Edit Color & Create Your Own Library
Re-color in sRGB, CMYK, Lab, HSV, HSL, 6-color & 8-color color models
Unilimited Multi Palettes
Edit Palettes
Color Swap & Color Gradient
Reorder palettes
Add / Delete Colors & Palettes
Load / Save palettes & color libraries
Color Chips & Color page creation

Supported Printers: Canon, Epson, Encad (legacy printers), H.P., Konica, Mimaki, Mutoh, M.S., Roland, Regiani, Robustelly, Stampajet, Artistri, TIFF, others.