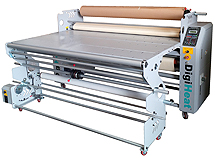 6763T Rotary w/ Table
64" transfer area & digital controller
3-Zone Heat & Temp Control
Multiple unwinders & rewinders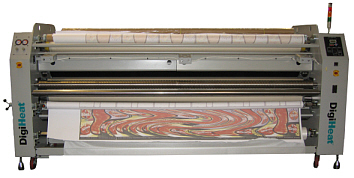 136" Heat Press - Grand Format
132" wide transfer area
Multiple-zone heating & control
Auto-centering of belt & Pressure Control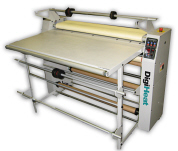 44" Heat Press + Feed Table
42" transfer area & digital controller
Feeding table for easy of use
Multiple unwinders & rewinders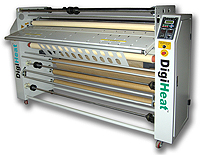 67" Heat Press
64" transfer area & digital controller
3-Zone Heat & Temp Control
Multiple unwinders & rewinders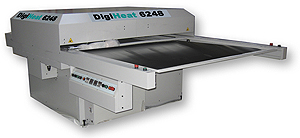 Flat Bed Heat Press
60" x 48" Multi-zone heating & control
Transfer of large cut sheets

Drum: electrical drum with multiple heaters and heat zones ( depending on machine model ) provides:
A more consistent transfer of colors
Quicker heat up and cool down times
Automatic timer will cool down and shut off your machine, without needing to wait for it.
Price: high quality machines at very affordable prices. Call for details and availability.

Applications:
Heat transfer your dye sublimation prints from paper to fabric
Heat set / cure your pre-printed fabrics, both for disperse and pigments inks.
Transfer or sublimate:
Banners, Signs, and Flags
Fabrics and Sample Yardage, garments, apparel, etc.
Custom and Short run productions
Larger run productions, speeds depend on machine model and substrates to be used
Sportswear, Swimwear, and Outdoors
Casino and Gaming tables, felts, and graphics
Transfer to many polyester-based or coated flexible substrates/fabrics

Features:
Up to 4 Zone Heaters and Heat Controls depending on model
Variable Speed control
Drum sizes between 9" and 14"
Digital Temperature Control

Display Actual & Set temperature
Temperature sensors

Automatic Cool Down and Shutdown function
Hand Protect Safety Sensors
Adjust belt tension manually or by air pressure ( depends on model )
3 Unwinds & 2 or 3 Rewinds with variable speed depending on model
Easy to use, load, and unload. Stands on wheels / legs to easily move it, and lock it in place.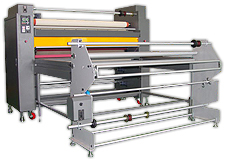 67" OIL-based Heat Press
22" Diameter Drum - High Speed Production
64" transfer area & digital controller
3-Zone Heat & Temp Control
Multiple unwinders & rewinders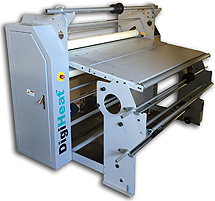 52" Heat Press + Feed Table
48" transfer area & digital controller
Feeding table for easy of use
Multiple unwinders & rewinders